Being Tolerant
– By His Holiness Śrīla Indradyumna Swami
I'd like to extend a very warm welcome to all of you to the very holy and sacred place of Kurukṣetra. We'll be elaborating on the many glories of this holy place as the morning proceeds. Actually there is much to be said about Kurukṣetra. It is described in the Skandh Purāṇa that Kurukṣetra was the main holy place in the Satya–Yuga. In the Treta-Yuga the main holy place that people assembled for spiritual progress was Puṣkara. And in Dvāpara–Yuga the main place that the Sādhus would go to for spiritual enlightenment was Naimiṣāraṇya. And in the Skandh Purāṇa which is of course 'Purāṇa' means very ancient, very old; it's described now that the holy place in Kali-Yuga is Navadvīpa.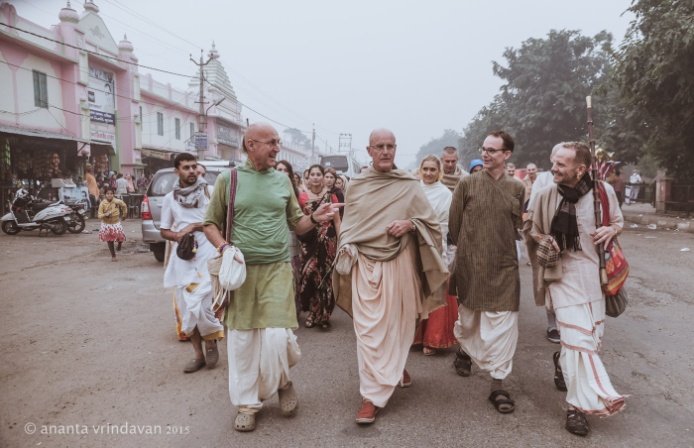 So my point is that, you know when we think of Kurukṣetra you usually think of the big war here, the battle that took place. And of course most significant for us actually the whole world, the whole creation is that, Prabhupāda said one time—our Lord Kṛṣṇa, He spoke Bhagavad-Gītā here, the eternal wisdom of Bhagavad-Gītā. The song of God for the eternal welfare of humanity past, present, and into the future was spoken here at Kurukṣetra. So we'll be elaborating more on this again as the morning goes on, the glories of this holy place because you know from Satya–Yuga down to the present day there's a lot to be said about Kurukṣetra. But due to the limitations of time I'll take a particular angle because we're Gauḍīya Vaiṣṇavas and speak about when the Lord came here with the residents of Dvārakā­ because of a solar eclipse, and the residents of Vṛndāvan took the opportunity to come and meet Kṛṣṇa here after a very, very long time. We'll speak about that pastime in particular.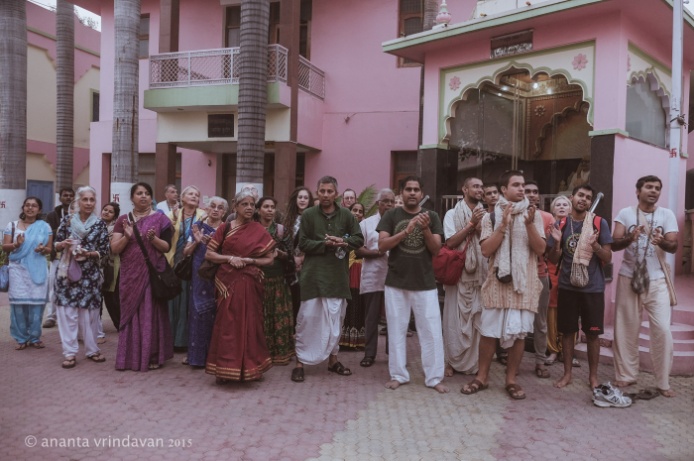 I would like to apologize for any inconvenience caused by the long trip in the buses here yesterday. Some of you rode 7-8 hours. [The] situation is that for whatever reason it's India, and you can never plan things perfectly. Some of us are living in Svarga-Loka. Although Caturātmā Prabhu informed me last night that everybody's room in this hotel except mine only, there's cold water. So I'm the only person here in Svarga-Loka who has hot water. He came to my room and told me that. "You're the only one with hot water." "Oh!" [Laughs]
And Prabhupāda has pointed out, although Svarga-Loka is Svarga-Loka, it's not perfect. He said the problem in Svarga-Loka is—oh there's practically no birth, no disease, no old age, no death, practically, almost like that, he said. The problem is people are always worrying when are the demons going to come and try to take over. And some of the hotels are like the earth planet: a little good, a little bad,  mixed you know—maybe some warm water. [Laughs] I don't know. And some of the hotels are like the subterranean planets like Pātāla-Loka I heard. So…I am very sorry. What to do?  Prabhupāda said sometimes we live in a fancy palace, sometimes we live under a tree. That's the nature of traveling especially in India. You have to be very tolerant here, but the rewards for such tolerance you could hardly measure. The rewards of coming to a holy place like Kurukṣetra.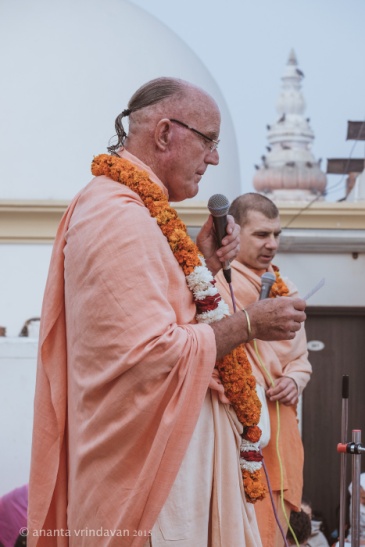 So let us not fall prey to thinking about the austerities, the difficulties, the inconveniences. Let's come above that platform, and realize, meditate on where we actually are; somehow or other we got here. And for most of us this will probably be the only time in our life that we come to Kurukṣetra. Because you know, generally we're in Vṛndāvan, we're in Māyāpura, sometimes Purī, sometimes Devotees go here and there. But in my 45 years as a Devotee this is my first time in Kurukṣetra. And let's try to see everything here, experience everything here through the eyes of Guru, Śāstra and Sādhus. As I've said before, a saintly person, he sees through his ears, he sees the world through his ears, from Guru and Gaurāṅga—not from these imperfect eyes. And let's relish every moment, every precious moment. We're only here a day and a half. That's nothing out of your life. Let's relish every moment that we're in this sacred abode of Kurukṣetra, the place where the Lord chose to speak the eternal wisdom of the Bhagavad-Gītā which is guiding us back to the spiritual sky.
After the morning program we're going to go to the tree. I heard that Kṛṣṇa spoke the Gītā under a tree. We're going to visit that place today. Right, Rasikā? We'll go out there. Yeah. And this big lake here, I'll be speaking about that later, very sacred lake. The government, I'm surprised how well managed everything is here. There's this beautiful circular path that goes around those holy lakes. We'll go on a Harināma party this evening around the sacred lake.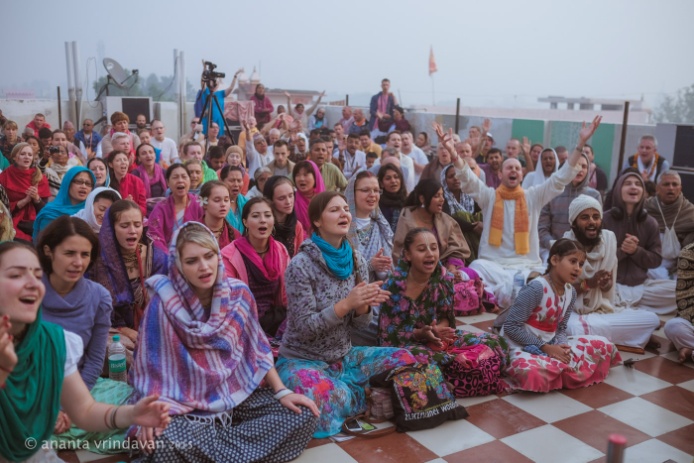 But for now let me introduce you all to a very close, intimate, loving, eternal friend of mine: Śrī Prahlad Prabhu. Prahlad and I were together for many, many years, I think over 15 years traveling the world together preaching Kṛṣṇa Consciousness. Now Prahlad lives in Sydney with his wife, Gāndharvikā. He's a professor at the University of Sydney. And most important, he's very much involved in the Kīrtana/Bhajan scene throughout the country. He's famous for his Kīrtanas and for preaching Kṛṣṇa Consciousness to many of the young people of that country, as well as giving classes in the temple and counsel to Devotees, etcetera, etcetera, etcetera, etcetera. And we take time out every year to go to some transcendental place together. The Bhṛgu Muni, we went to a Bhṛgu, he once said that, "You'll be separated after some time, but you'll always come together time after time throughout your lives visiting the transcendental Līlā–Sthānas of Lord Kṛṣṇa."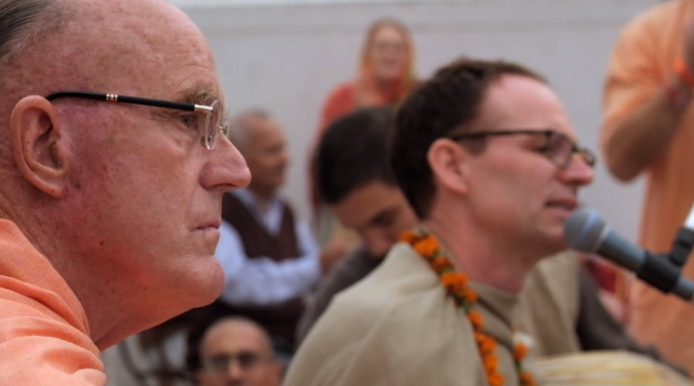 So here I have met my old friend here at Kurukṣetra. I'm not going to quote the verse, but…There's a verse like that [Laughter]. So we'll ask Śrī Prahlad to open the morning program with a beautiful Bhajan.
I think some of you, many of you are new to Kṛṣṇa Consciousness. You never heard of Śrī Prahlad, you never heard of his Bhajans. That's how old we're getting, Prahlad. But if you are in that category, you're in for a pleasant transcendental surprise. Prahlad can sing for about 45 minutes and then we'll speak about the glories of Kurukṣetra.
Śrī Kurukṣetra Dhāma ki—Jaya!
Bhagavad-Gītā as it is ki—Jaya!
Śrīla Prabhupāda ki—Jaya!
Kārtik Parikramā 2015 ki—Jaya!
Gaur Premanande Hari Haribol!
Jaya-Jaya Śrī Rādhe …………….Śyāma!